SENDERMAP - Email/Push Marketing Services
Special marketing platform and services for customers with 100 000+ subscribers!
Email Marketing Services
Our email marketing service is currently helping people in over 30 countries to send stylish email newsletters, promote awesome products and strengthen important relationships.
Real-Time Email Tracking
Find out who is opening your newsletter and clicking on the links in your bulk email. Compare email campaigns to improve your results over time. Export reports or create login access for those important clients.
HTML Design Freedom
Use the WYSIWYG message editor, import your own email designs or use one of our stylish templates to get you started in seconds. No website or HTML design skills are needed.
Email Marketing Software
Simplified email marketing software for creating, sending and managing mass email newsletters and email marketing campaigns right from your computer. No monthly cost or per email fees and you are in complete control.
Software Features
Our software includes everything you need to maintain, manage and grow your email list. Store unlimited groups with unlimited contacts, automate website subscriptions, unsubscribes/opt-outs and bounce management. Easily add new contacts to a group, modify contact details in a instant, import contacts from almost any data source, export contacts when you need, merge contact groups, purge contact groups, link your contact database and much more.
UNLIMITED EVERYTHING
you get unlimited everything, customers, email lists, subscribers, campaigns, stats, delivery servers, etc.
DETAILED REPORTS
Each campaign will produce very detailed reports, see who opened or clicked your campaigns, how many times and from what location and device. You can also share your campaign reports with 3rd parties without the need to create accounts for them.
GREAT API SYSTEM
Software comes with a great API system that you can use for custom integrations. You can use it to create subscribers, lists, campaigns, etc.
YOU ARE IN CONTROL
Software gives you extraordinary control over the entire application so that you can fine tune it for your own environment. It also provides administrative tools so that you always know how it performs, if it has issues, and what issues it has.
HIGH SPEED DELIVERY, ANYTIME & FROM ANYWHERE
With our service your emails will be sent out more quickly than ever, with any Internet Service Provider in the world.
BOUNCE, SPAM AND UNSUBSCRIBE MANAGEMENT
You will be able to manage all soft and hard bounces, spam complaints, and delete the unsubscribed accounts.
Our Premium Service Process
We can offer our Premium Email Marketing Service for our customers. Just let us create all campaign for your business.
Generate Ideas and Tasks
Customer create an aim for marketing. We generate ideas and make marketing plan.
Create Contents
We make design and Contents for offers. Create Landing Pages, Websites, Email templates, Banners etc.
Launch Project
Start marketing campaign according to plan and using all features of our software.
Analytics and Goals
Analyze analytics, make corrections in process to get maximum efficiency.
Email marketing provides an effective connection with your targeted audience and gives you the best return on investment. Reach out to your current and potential customers and keep them updated on your company latest deals and news. Our experts use tools, strategy, implementation and result tracking in order to achieve the best possible brand engagement. We can take care of your complete email marketing strategy from template design to tracking and reporting.

Our Pricing
We work with customers from 1 000 000 mails per month and higher
More than 5.000.000 mails
From 1.000.000 subcribers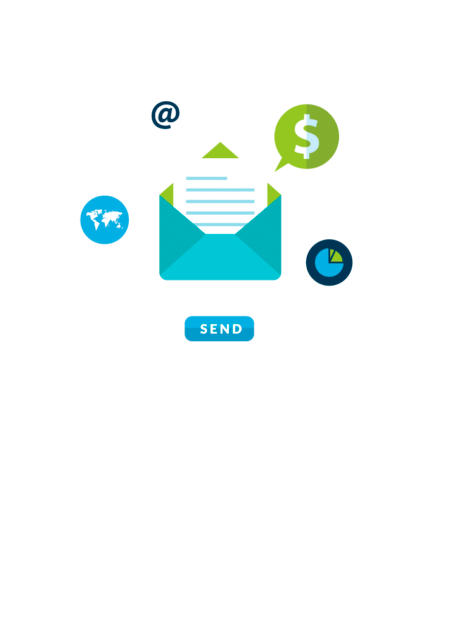 Contact us
Contact us today for a Comprehensive Email Assessment to make sure you're not missing out on any of the fundamentals. We'll also show you behind the curtain to see what is getting results in the current market.
---
Our Headquarters
United States of America 30 N Gould St, Ste R Sheridan, WY 82801
Email: info@sendermap.com
---
Our Dev office
United States of America 30 N Gould St, Ste R Sheridan, WY 82801
Email: info@sendermap.com